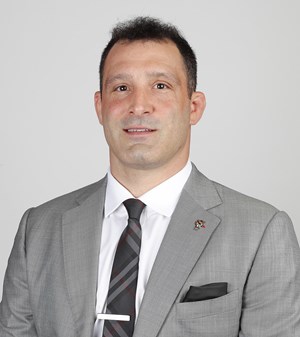 The 2019-2020 wrestling season marks Pat Popolizio's eighth at the helm of the NC State wrestling program, as he was named head wrestling coach of the Wolfpack on April 10, 2012.
Over the last five seasons, NC State has had three national champions and four of the last five ACC Wrestlers of the Year were members of the Wolfpack.
He has led NC State to five straight top-20 finishes at the NCAA Championships, tied for most top-20 finishes in a row in school history (1980-84). Over the last five seasons, NC State has finished 19th in 2014, 16th in 2015, 11th in 2016, 17th in 2017, and 4th in 2018.
In his six seasons overall, Popolizio has had 40 NCAA qualifiers, highlighted by a school record 10 in 2017. In the last three seasons, NC State has qualified 27 of its 30 starters.
In May of 2018, Popolizio served as the head coach for the USA at the Cadet Pan American Championships in Guatemala City, Guatemala. The U.S. dominated, winning the team title with 9 of the 10 wrestlers winning Gold.
In 2017-18, NC State brought home its first-ever team trophy, as the Wolfpack finished a school and ACC-best fourth at the 2018 NCAA Championships. R-Sr. Michael Macchiavello won a national title at 197 pounds, and R-Fr. Hayden Hidlay placed second at 157 pounds. NC State became the first ACC school with two NCAA Finalists. The Wolfpack also had a school record four All-Americans with R-Fr. Tariq Wilson placing third and Sr. Kevin Jack taking sixth.
"Pat is a builder of programs and of young men," said NC State AD Debbie Yow at the time of his hire. "He was an outstanding collegiate performer at Oklahoma State and is a proven teacher and mentor as a head coach. He will lead Wolfpack Wrestling to compete for ACC titles and, eventually, the national championship."
Prior to coming to NC State, in six seasons at Binghamton University (2007-12), Popolizio transformed the Bearcats into a national contender after inheriting the program that went 0-12 following its reinstatement in 2005-06. Among his highlights with the Bearcats:
• 14th at the 2012 NCAA Championships
• 21st at the 2010 NCAA Championships
• 2010 CAA Champions
• Two-time CAA coach of the year (2012 and 2010)
• Candidate for national coach of the year in 2010
• Four All-Americans and 21 NCAA qualifiers over six seasons
• CAA Wrestler of the Year and CAA Rookie of the Year in both 2012 and 2010
• 15-4 dual meet mark in 2011-12 was a school record .789 winning percentage
• School record 16 wins in 2010-11
Prior to his stint at Binghamton, Popolizio was the lead assistant and recruiter at American University for two seasons, helping that program finish 17th in the country. At American, he coached seven NCAA qualifiers and the school's first All-American. Prior to that, he served as an assistant coach at Army (2003-04) and Sacred Heart (2002-03). His team at Sacred Heart achieved the highest grade-point average of any wrestling program in the country.
Prior to entering the coaching ranks, Popolizio was a decorated wrestler during his student-athlete career for Oklahoma State coach John Smith, a six-time world champion. Among his highlights during his collegiate career:
• Three-time NCAA qualifier
• Won greater than 90 matches
• Ranked No. 1 in the country at 184 pounds during senior year
• Helped lead Oklahoma State to Top 5 national finishes (second, third, third and fifth) at NCAA Championships in each of his four seasons in Stillwater
• Big 12 runner-up in 1998 and 2002
• Fifth at the World Team Trials in 2003
• 2002 Oklahoma State Hustle Award
Popolizio graduated in 2001 with a bachelor's degree in health and physical education. He was a two-time Big 12 All Academic selection and five-time recipient of the Oklahoma State Student-Athlete Award.
At the prep level, Popolizio was a New York state scholastic champion for Niskayuna High. He was named Most Outstanding Wrestler at the 1996 state prep meet, where he captured the 177-pound title, and went on to become the national high school runner-up.